Good morning, dears, and happy Wednesday! I had a fun morning dancing around the house to Hall and Oates, and I still am bouncing in my chair humming Private Eyes. While dancing this morning, Cayla couldn't decide if my dancing reminded her of 1) Bill Cosby, 2) the possessed family table-top dancing in Beetlejuice, or C) My mom. If you haven't had the HONOR of seeing me dance, you are missing out. I got moves like nobody's business. Clearly.
So, today, I am excited to announce that one of you gets to win a cute little critter from
Laura Frisk's hand-made shop
! You can give one to a little one you know, or keep it for yourself (if you're a kid at heart like me).
These are a few of my current critters:
Pug Plush from Renegade
And my newest addition, this cute lil snail from
Laura's shop
!
The lovely
Laura
has offered one of you the chance to win this cute fox plush!
Yay! We need to find this fox a new home!
Her shop
is full of fun woodland friends from squirrels and foxes to snails, bunnies, and deer.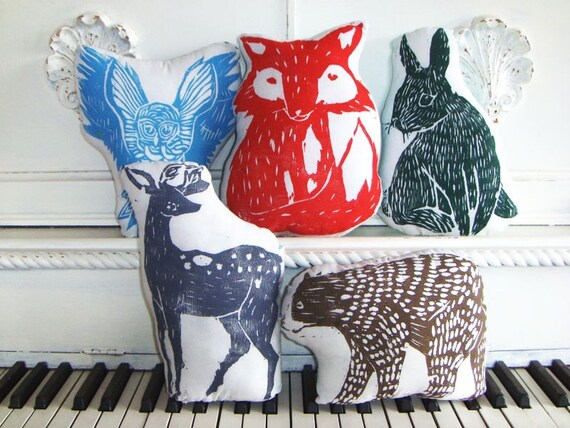 She is so talented! I want them all!
She hand carves each of her drawings on blocks of salvaged wood, then prints her design with water-based fabric ink so her items are completely washable.
If you would like to win this friendly fox, all you have to do is
heart her shop on etsy and let me know that you did with a comment
. If you really want to win, you can
like her page on Facebook
, too, for an extra entry. And the third entry is to let me know what you would do with the fox plush if you won!
Good luck dear readers! And, thank you Laura for being so kind - I am honored to have you on the blog today!
xoxo,
S.S.