First up! Let me just say, I am so excited for the
pop-up tomorrow
. Jazzed! [Insert jazz hands here.]
And, I saw this morning that our local paper included
a blurb about the sale
. How cool is that?!
Now, enough about me!
Today, I wanted to share a chat with Adrianne Lee of
Ninkybink
. She has a lot to share about starting your own line and making your passion a reality. She stepped away from the sewing machine to chat with me about a new line of t-shirts she's launching and how she got where she is today.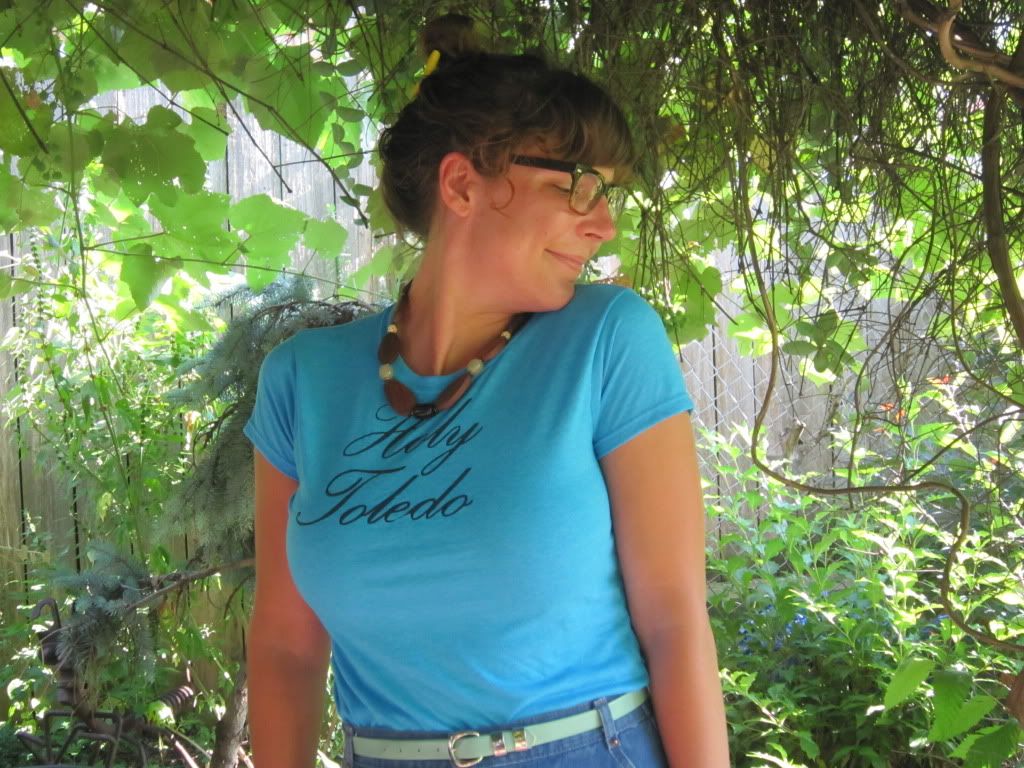 This here Holy Toledo shirt had to be mine, because a) it's freaking cute and b) I lived in Toledo for two years while in grad school. That city holds a special place in my heart and several of my favorite people live there. (Yo, Em!) It's also where I got to see two of my favorite authors speak (Tom Robbins and Toni Morrison! What?! Yes!)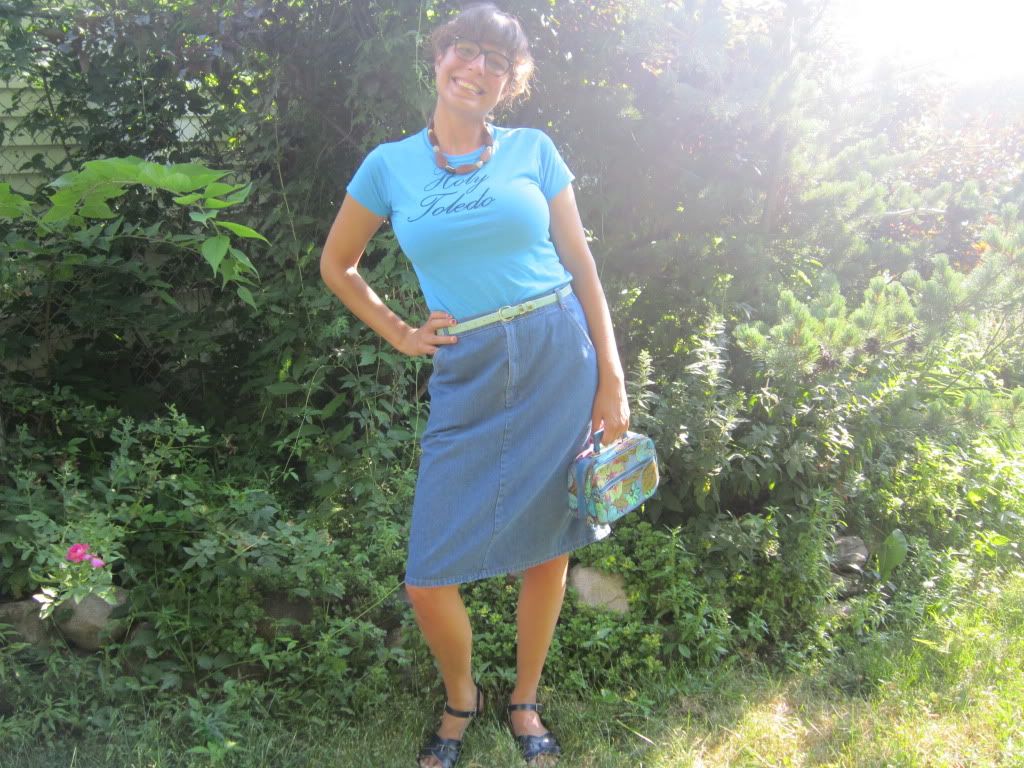 Can you tell I was really excited about this shirt? And do you SEE that mini suitcase purse? Best estate sale find EVERRRRR.
So, let's meet Adrianne, shall we?
Tell me a little bit about yourself! Where do you live? What are some of your hobbies?
I live in a little "shabby chic" studio apartment in a historic building, located in Bowling Green, Ohio. In the mornings you will find me socially making lattes and brewing coffee as my day job (which I love!), and in my free time, apart from designing, I'm probably barefoot running, drawing, or spending time with the people closest to me. Lately I've been interested in Hitchcock movies. I don't know why it's taken me so long in life to discover them!
When did you start your clothing line? What was the inspiration to take the "big leap"?
I informally started Ninkybink back in 2002, and for years it took many handmade forms. First it was tote bags, then it was dresses, then Marie Antoinette inspired pin up girl lingerie. In each of these twists and turns along the way, I had some successes, but I still didn't think of it as a true business, more like a hobby to occupy my time and give me enjoyment. Then this year something kind of neat happened. I had saved up to go on this trip over seas, and the trip ended up not happening. Instead of being sad about it, I realized this was the opportunity to invest into making Ninkybink a real business. I took the legal actions in getting an LLC and vendors license, and wrote a business plan and a budget. My goal is to make Ninkybink a brand that can be carried by boutiques all over the country.
Speaking of inspiration, what inspires you and your work?
In a general sense I'm inspired by walking around antique shops. I like the way things were drawn in the past, and I love
old advertisements
. Similarly, I like to go to the library and look at archived issues of
Seventeen
and
Vogue
from the 50's and 60's. This particular tee shirt line I have made has very specific influences. The "Pink Car Appreciation Society" tee is because I have a pink car and it makes me really happy to drive it around. It was a beaten-up-looking green car when I bought it used, but adding the paint to it made it really fun. The "This Too Shall Pass" tee was a quote my grandma used to say to my mom, and my mom has said to me. I think it's very encouraging! Finally, the "Shelf Life of an Artist" tee is my mom's own illustration. I am so proud of her, so I asked her if I could print shirts with her drawing. I really like producing items that have a personal connection somehow.
Any advice out there for those thinking about starting a line?
If you are planning to start a fashion line, my advice is keep it simple and small to begin with. Maybe just one category and two or three designs. Also, make a business plan and spend a great deal of time on it. SBA.gov and score.org provide free templates and guides to help you. I have also found two books extremely helpful, "
The Fashion Designer Survival Guide
" by Mary Gehlhar and "
Craft Inc: Turn Your Creative Hobby into a Business
" by Meg Mateo Ilasco.
Why do you think it's important to support small and hand-made shops?
The smallest minority is the world is the individual! I think it's inspiring to see individual people out there, who set out to be different, taking risks, knowing the economy is not good but doing it anyways. I really admire the effort that goes into creative endeavors, because it is NOT the easy route. I always feel good supporting a dream of someone!
Well, it's been just lovely getting to know Adrianne! I am definitely rooting for her and her new line. I have nothing but mad love and support for ladies following their hearts and their passions. We all need to help each other and share the love and encouragement! A tip of the hat to Adrianne! I hope her adventure is successful, joyful, and fulfilling.
If you would like to win one of her hand-made This Too Shall Pass t-shirts, you can follow her on
Twitter
. If you want an additional entry, stop by her
Facebook
and give her a like. Please leave a comment for each! :) And, of course, you must follow my lil ol blog! Good luck, friends!
xoxo,
S.S.